12 Febbraio 2023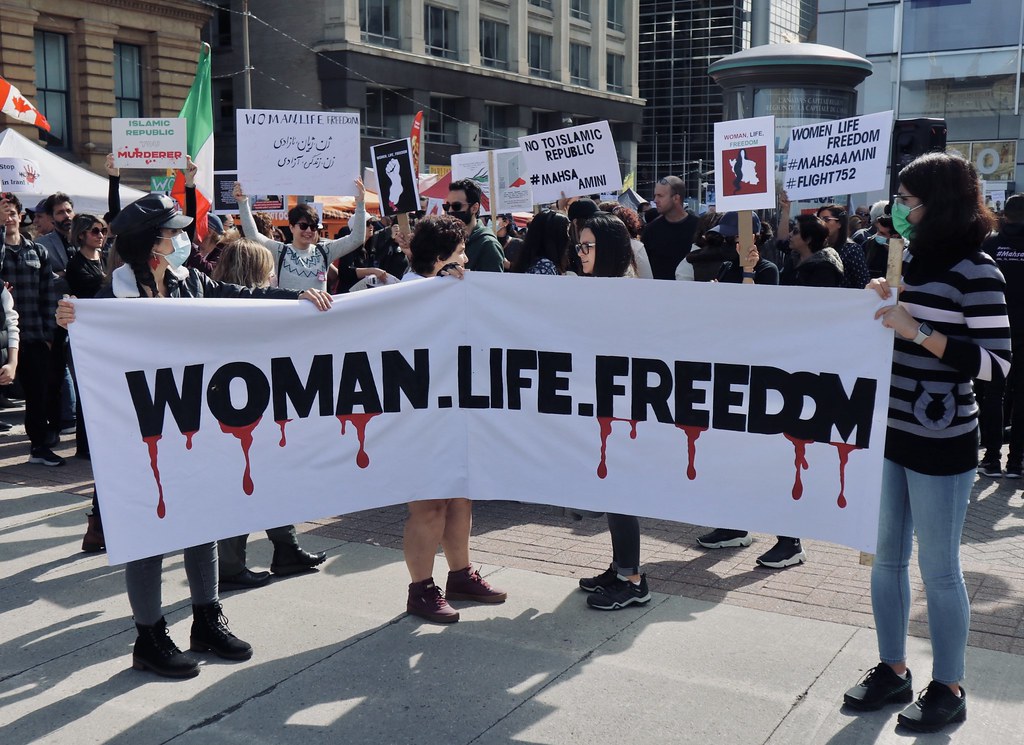 [red]
Pubblichiamo una lettera aperta promossa dalla Cgil sarda indirizzata alla Guida suprema della Repubblica Islamica dell'Iran, l'Āyatollāh Seyyed Alī Ḥoseynī Khāmeneī e al Presidente della Repubblica Islamica dell'Iran Sayyid Ebrahim Raisol-Sadati. La lettera, tradotta in sardo, inglese e persiano, chiede la fine della sanguinosa repressione e il rispetto dei diritti umani, può essere sottoscritta alla Camera del lavoro di Cagliari e inviando una mail all'indirizzo [email protected]
Vi scriviamo questa lettera in qualità di donne, uomini e persone LGBTQIA+; di cittadine dell'Italia e del mondo; credenti in diverse fedi, atee ed agnostiche; di lavoratrici, pensionate e cittadine.
Vi scriviamo dalla città di Cagliari, in Sardegna, con gli stessi sentimenti che nutriremmo se vivessimo in una piccola città del Vostro grande Paese ma, per nostra fortuna, senza correre alcun rischio nell'esprimere il nostro pensiero, protette come siamo dalla Costituzione della Repubblica italiana.
Le stanze in cui questa lettera è nata appartengono alla CGIL: un grande sindacato di lavoratrici e di lavoratori che opera a sostegno della pace, dell'amicizia e della solidarietà tra i popoli del Mediterraneo e di tutto il mondo. I nostri Congressi, in svolgimento in questi giorni, sono addolorati per quel che accade nel Vostro bellissimo Paese.
Nel futuro che siamo impegnate a costruire, a partire dalla nostra isola e in tutto il mondo e anche in Iran, noi vediamo una società in cui le donne siano libere di autodeterminare le proprie scelte e la propria vita; libere di lavorare, studiare, viaggiare, partecipare alla vita politica ed alla direzione dello Stato in condizione di parità; libere di vestire, cantare, ascoltare musica allegra e ballare in qualunque modo esse desiderino.
Proprio le donne che Voi e il Vostro regime tanto temete.
Da quando il Vostro Governo ha deciso di deformare e cancellare la millenaria tradizione di cultura e di civiltà del suo grande Paese, che noi vorremmo poter visitare e conoscere in pace; da quando ha deciso di piegare i dettami religiosi a strumento di oppressione in un regime che non riconosce i diritti della persona; da quando le ragazze, i giovani e le donne del Vostro popolo possono essere colpite, incarcerate, stuprate ed uccise per un semplice e umanissimo atto di libertà e di ribellione; da quando tutto ciò accade, parole molto più lievi di queste costerebbero il carcere e la vita a chi le pronuncia.
Sappiate che nessuna delle violenze che il Vostro Governo sta praticando potranno essere dimenticate, dai giovani del vostro paese, da coloro che vivono nella nostra terra e nel mondo intero.
Desta orrore che, per difendere il Vostro potere – fondato su un patriarcato ancestrale che non dovrebbe avere più alcuna cittadinanza – siate disposti all'uccisione di ragazze e di ragazzi, allo stupro, alla violenza più efferata, alla carcerazione più ingiusta ed alla esecuzione capitale per omosessualità.
Cosi facendo state minando la crescita civile, culturale e sociale del vostro paese, perché le giovani violentate, terrorizzate, torturate ed ammazzate di oggi rappresentano il vostro stesso futuro.
Le nostre porte, i nostri cuori e le nostre menti sono aperte alle donne iraniane ed ai giovani in lotta contro il Vostro potere e la Vostra politica cieca e lesiva dei diritti umani e degli stessi principi dell'Islam.
Rivolgendoci alle donne iraniane che dovessero leggere queste parole, vogliamo dir loro che ammiriamo il loro coraggio, la loro fierezza, la bellezza dei loro visi e dei loro sguardi, che mai più dovranno essere nascosti.
E che è nostro intento costruire un ponte di pace a supporto delle loro lotte.
A Voi, Presidente Raisi e Āyatollāh Khāmeneī, vogliamo dire che solo riconoscendo i diritti all'uguaglianza tra tutte le componenti del vostro paese avrete la possibilità di far crescere e preservare il futuro dell'Iran. Come persone che lottano per un mondo di pace e in cui tutti abbiano uguali diritti, Vi chiediamo di porre fine alla repressione contro le vostre donne e i vostri giovani perchè la loro lotta e le loro rivendicazioni sono giuste e non potranno essere annientate.
Distinti saluti.
Da Cagliari, gennaio 2023
***
Your Excellencies,
we write this letter to You as women, men and LGBTQIA+ people; as citizens of Italy and of the world; believers in different faiths, atheists and agnostics; as working women, retirees and citizens.
We write to You from the city of Cagliari, in Sardinia, with the same feelings we would have if we lived in a small town in Your large country but, fortunately for us, without running any risk in expressing our thoughts, protected as we are by the Constitution of the Italian Republic.
This letter was born in rooms belonging to the CGIL: a large union of male and female workers that works in support of peace, friendship and solidarity between the peoples of the Mediterranean and around the world.
Our Congresses, which are taking place these days, are saddened by what is happening in your beautiful country. In the future that we are committed to build, starting from our island and throughout the world and also in Iran,
we see a society in which women are free to self-determine their choices and their lives; free to work, study, travel, participate in political life and in the direction of the State on equal terms; free to dress, sing, listen to happy music and dance however they wish.
Precisely the women You and your regime fear so much.
Ever since your government decided to deform and erase the millenary tradition of culture and civilization of your great country, which we would like to be able to visit and get to know in peace; since it decided to turn religious dogmas to an instrument of oppression in a regime that does not recognize the rights of the person; since when the girls, young men and women of your people can be shot, imprisoned, raped and killed for a simple and very human act of freedom and rebellion; since all this has happened, words much lighter than these would cost the person who utters them prison and life.
Know that none of the violence that your government is practicing can be forgotten, by the young people of your country, by those who live in our land and in the whole world.
In order to defend your power – founded on an ancestral patriarchy which should no longer have any citizenship in our world – it is horrific that you are willing to kill girls and boys, rape and commit the most heinous violence, the most unjust imprisonment and the capital execution for homosexuality.
By doing so You are undermining your country's civil, cultural and social growth: today's raped, terrorized, tortured and murdered young girls represent your own future.
Our doors, our hearts and our minds are open to Iranian women and young people fighting against your power and your blind policy wich violates human rights and the very principles of Islam.
Addressing Iranian women who may read these words, we want to tell them that we admire their courage, pride, the beauty and looks, which must never again be hidden.
And that it is our intent to build a bridge of peace to support their struggles.
To You, President Raisi and Āyatollāh Khāmeneī, we want to say that that only by recognizing the rights to equality of all the components of your country will you have the possibility to grow and preserve the future of Iran. As people fighting for a world of peace where all have equal rights, we ask you to end the repression against your women and young people because their struggle and their demands are just and cannot be annihilated.
Best regards.
From Cagliari, January 2023
***
in sa Natzioni issoru o in calisisiat logu s'agatint
Bosu Primoris,
Si scrieus custa lìtera in calidadi de fèminas, òminis e personis LGBTQIA+; de tzitadinas de s'Itàlia e de su mundu; creidoras in fidis diferentis, àteas e anniòsticas, traballadoras, pensionadas e tzitadinas.
Bosi scrieus de sa citadi de Casteddu, in Sardìnnia, cun is sentidus chi emus a intendi fintzas si
bivèssimus in una citadi pitica de su Stadu mannu Bostu ma, po bona sorti, sena de perìgulu perunu si professaus su pensamentu nostu, ca seus amparaus de sa Costitutzioni de sa Repùblica italiana.
Is aposentus innui est nàscia custa lìtera sunt de sa CGIL: unu sindacau mannu de traballadoras e
traballadoris chi traballat po favoressi sa paxi, s'amistadi e sa solidariedadi intra de is pòpulus de su Mediterràneu e de totu su mundu.
Is Cungressus chi eus fatu in custas diis funt addolorius po cussu chi acuntessit in su Stadu Bostu ermosu meda.
In su benidori chi seus fraighendi, a inghitzai de s'ìsula nosta e pustis in totu su mundu, e duncas in
Iran puru, nosàterus bieus una sotziedadi chi is fèminas funt lìberas de determinai issas etotu is scioberus de sa vida insoru; lìberas de traballai, studiai, biaxai, pigai parti a sa vida polìtica e a sa dirigidura de su Stadu in unu stadu de paridadi, lìberas de bistiri, cantai, ascurtai mùsica allirga e baddai in calisisiat manera disigint.
Pròpiu is fèminas chi Bosàterus e su regimi Bostu timeis.
De candu su Guvernu Bostu at detzìdiu de slegiai e de burrai su connotu de sa cultura e de sa
tzivilidadi millenàrias chi ddoi funt in su Stadu Mannu de Bosu, chi nosu eus a bolli a biri e connosci in paxi; de candu eis detzìdiu de manixai is ditàminis religiosus po ndi fai aina de oprimidura in unu regimi chi non arreconnoscit is deretus de sa personi; de candu is piciocas, is giòvunus e is fèminas de su pòpulu Bostu podint essi fertas, impresonadas, violentadas e bocias po unu atu simpli de libertadi e arrebèllia sceti; de candu acuntessit totu custu, su prètziu de custus fueddus, ma chi fessint prus lèbius puru, at a essi sa presoni o fintzas sa vida po chini ddi narat.
Depeis sciri chi nisciuna violèntzia de cussas chi su Guvernu Bostu est fendi at a podi essi scarèscia, de is giòvunus de su Stadu Bostu, de is chi bivint in sa terra nosta e in totu su mundu.
A nosu fait spreu chi po sa defensa de su poderi de Bosu -chi tenit is arrèxinis in unu patriarcau de is antepassaus chi oindì non depiat tenni prus tzitadinàntzia peruna- lompeis a bociri piciocas e piciocus, a violentai, a fai sunfriri sa violèntzia prus lègia, a ghettai in presoni de badas, arribendi fintzas a sa pena capitali po omosessualidadi.
Fendi diaici seis barranchendi sa crèscida tzivili, culturali e sotziali de su Stadu, ca is giòvunas violentadas, spramadas, atripadas e bocias oi arrapresentant su benidori de bosàterus.
Is gennas, is corus e is concas nostas funt abertas a is fèminas iranianas e a is giòvunus chi batàlliant cuntra de su poderi de Bosàterus e sa polìtica Bosta, tzurpa e chi lesiat is deretus umanus e fintzas is printzìpius de s'Islam.
Boleus nai a is fèminas iranianas chi ant a ligi custus fueddus, chi ddas stimaus po s'alientu, sa fieresa e sa bellesa de is caras e de is miradas insoru, chi non ddis apant a cuai mai prus.
E chi teneus sa punna de fraigai unu ponti de paxi e agiudu a is batàllias insoru.
A Bosàterus, Presidenti Raisi e Āyatollāh Khāmeneī, boleus nai chi sceti arreconoscendi is deretus a s'ugualidadi intra de totus is cumponentis de su Stadu Bostu eis a tenni sa possibilidadi de ammanniai e amparai su benidori de s'Iran. Nosu chi seus personis chi batàlliant po unu mundu de paxi e chi totus apant a tenni is matessi deretus, Bosi pedius de dda acabai cun s'arreprimidura cuntra de is fèminas e giòvunus bostus ca sa cumbata insoru e cussu chi pedint funt giustus e no ant a essi bintus.
Saludus Nòdius.
De Casteddu, gennàrgiu 2023.
***